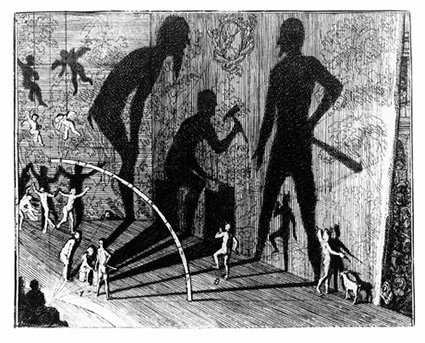 A film by Gustav Deutsch
Treatment / Script
PLATO´S CAVE TIMES FIVE is a cinematic adaptation of the cave allegory of the Greek philosopher Plato in five episodes. Each episode addresses a different interpretation of the allegory, and is enacted as a reference to a film genre/subgenre of the history of film and its precursors:
1. Education >< Shadow Theater / Phantasmagoria / Magic Lantern show
2. Culture >< Cinema of attractions / slapstick film
3. Politics >< German expressionism / Film noir
4. Religion >< Mystical Avantgarde film / Horror film
5. Media >< Science fiction / Fantasy film
2,500 years after Plato, his allegory of the cave is of unbroken topicality with respect to the five themes of the episodes. In an age of galloping consumerism, of fear-stoked xenophobia, populist politics, religious fanaticism and an uncontrolled media presence, the rise from the sensually perceptible world of transitional things in the "cave" into the purely intellectual world of immutable being appears to be a necessary educational path that is equivalent to a process of liberation.